What's New at ECOH
ECOH: The Local Network of Choice
July 25, 2017
ECOH is a true, local network
It's a fact: We are owned and operated by our member companies and our only office is in Rockford, IL. We negotiate personally with all the local providers to offer the best discounts to our members for their employees' health care. The local providers respond to ECOH because they know us. We are very proud of the fact that we have contracts with all of the local providers. Our local network reaches across the WI border, as far east as Kane and McHenry counties, as far south as Dixon, Sterling and Rochelle and as far west as the IA border and can also provide discounts nationally if needed.
ECOH is a non-profit organization with a small staff dedicated solely toward reducing our member companies' health plan cost.
It's a fact: It is our belief that employers should not have to increase employees' deductibles, copays and out-of-pocket expenses to be able to compensate for rising health care cost. That is why ECOH can offer each employee choices when choosing PPO networks. These choices allow employees to balance their personal cost in monthly health plan contributions with access to providers in the area. Through these choices, employees can decide between broad access to all medical providers at the highest cost and access to more limited provider numbers of providers at a lower monthly cost. Rather than an employer making that choice for all employees, each family can decide what they need and how much they are willing to pay for it.
We can guide employees through those choices and explain the differences in provider access to them both in writing and in person. We remain available to those employees all year long if they have questions or if their needs change.
That is the ECOH way.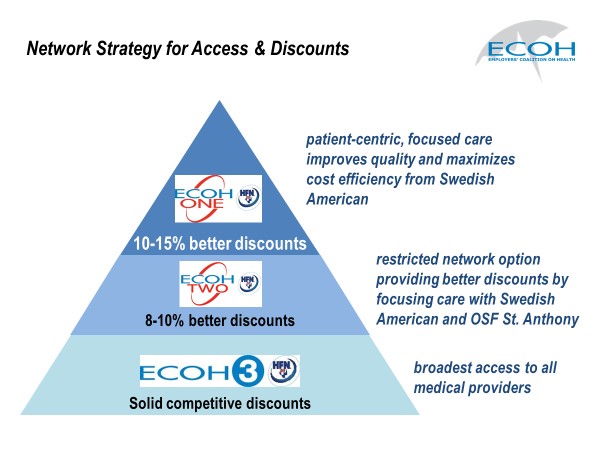 ---